HEADS UP!
That's what fall says to me. What does fall say to you?
Amazing things are going on all over the country.  Tis the season for change, for learning, for growing, for watching amazing transformations going on as the Northern hemisphere prepares for winter.  I love it.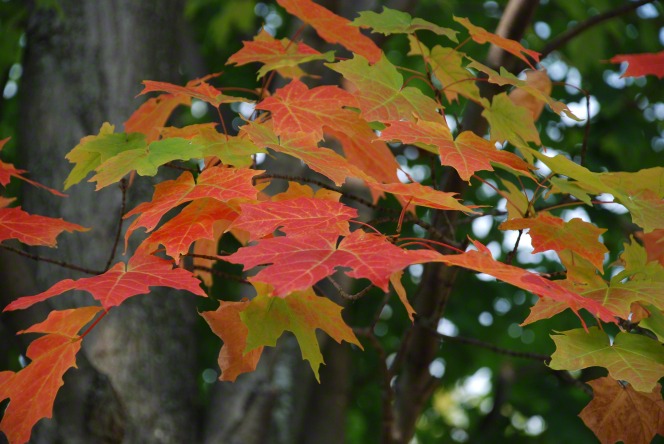 Fall was my favorite during those 6 years we lived where there were seasons.  Well, my favorite right next to spring.  And winter.  Summer hasn't ever really been my favorite, or Mr. Smith's either, which is why it's hilarious that we live in HAWAII where it's summer pretty much all year long.  😉
Kidding, kidding, we have seasons here.
Totally distinct seasons.
Gorgeous, Wow, Stunning, and Beautiful.
Also known as,
TheLocalsAreColdandtheTouristsAreHappy, SurfsUp, BeachDayEveryDay, and HolyCowWeNeedAC.
On the windward rainy side of the island, I like to call them:
Wet, Wetter, Hot, and Hotter.
Right now is the "hotter" season and I'm in constant state of sticky.  Thankfully, after 4 years here now I've learned to embrace it and have come to enjoy… complaining about it.  Yes, I completely and thoroughly have learned to enjoy whining about how hot it is.  When it cools off I'm sure I'll miss being able to blame any and every thing on it feeling like we live in a crock pot, setting on Hi.
I know ya'll like to see pictures, so here you go.  This is me:
Yep.
Anyway!  Moving on.
I wanted to let you know about 2 things I'm especially excited about in this fun season we're in.
#1
If you knew there was a meeting where the key note speaker was Noah (as in Noah and the Ark, Noah) — or Moses (10 Commandments), or Joseph (coat of many colors), or John the Baptist, or Peter (like, The Peter) — Would you be interested in going?  Maybe?  Yeah, I would be too.
I wonder what they'd have to say.
"Oh good heavens, you people still haven't got it?  GEEZE, man, how many different ways do we have to say "LOVE ONE ANOTHER"?!"
Hahaha.
So, if you found out there were prophets and apostles today, called of God with the same authority and power held by those other amazing individuals I mentioned, and that they spoke to the world 2x/year, would that be of any importance?
Come see for yourself. Make your own call about whether or not this speaks to you and fills a need for light and truth in your life. It's called General Conference. Here's a little snippet of what it's like:
The first meeting of this semi-annual tradition is for women and girls 8+, and it's this Saturday. YAY!!!
It's like full on pamper-me, ladies-night, girl-time…
…for the soul.
Story Time!
In the old days, like 2 or 3 years ago, they used to have an annual meeting for adult women, and then 6 months later, an annual meeting for young women, 12-18yo  — but I love how they've changed the format a bit.  It's great.
The first time they shook it up like this and added the young girls, my 10 year old daughter went with me  — and then she insisted on going again the next day, when I went to the rebroadcast with my niece.  It was that good.
 I'll be honest here.
I loved that meeting, but, frankly, watching it twice was not on my radar at all.  I was only going that second time because my niece couldn't attend the live broadcast and I loved spending time with her.  It wasn't about the meeting as much as it was an opportunity to (literally) chill in the AC with a busy teen, be with her in an uplifting environment, and have something to talk about together later.  (Parents of teens, you know what I'm saying!)  
I was touched and amazed that my 10yo wanted to go "sit through another meeting."  You just don't expect that from a 10yo.  She could tell I was surprised and she was like, "DUH, Mom, of course I want to go again."
It was clearly not just "another meeting" for her — it was food for the soul and she loved it.  She got it in a way that I didn't…  I learned a great deal that day.  
(And not just from the meeting!)
Okay, so: General Conference is one of my favorite things that fall brings.  The rest of the sessions will happen a week after the Women's Session, Oct 3-4. Huzzah!
But there's something else going on, and I think it's also pretty exciting/noteworthy…
Stay tuned for Part Two…